Downloading torrents is as popular as ever. Despite multiple attempts of the governments and movie industry to end the online sharing experience. With the prices of movies and DVDs rising steadily, many internet movie fans are looking for ways to download torrents and remain anonymous. That is why they also want to know how to do so. Worry no more, there is an easy solution to this problem! Just use a secure VPN like VuzeVPN!
Vuze and Vuze+ Torrent, the best way to download torrents
As you probably already know, torrents can be downloaded easily in just a few steps. If you are not sure how to download torrents, check out the Support page of Vuze Torrent. Using the Vuze program will not slow your computer down, and will allow you to quickly download torrents, from multiple sources available. All the information that may help you choose this product can be found here.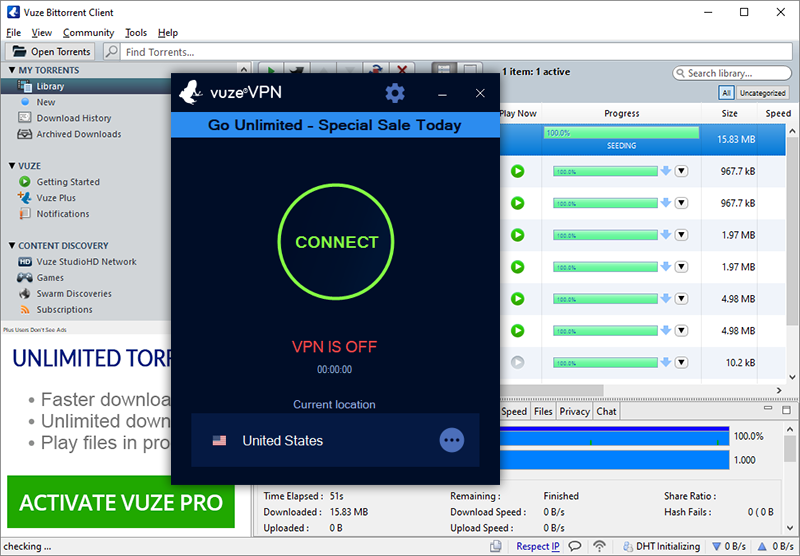 The product has an integrated search engine to find the file you want. Many other features are also offered:
HD video player.
Easy to learn.
Intuitive and user-friendly graphical interface.
Vuze+ allows you to create your own final playlist, by organizing your torrent videos. Also, it features the simplest way to burn your videos to DVD. Even more, Vuze Plus gives you the ability to move your torrent videos from your hard drive to your TV.
To download torrents and remain anonymous, just add a few more steps to the process. These additional steps are not difficult to perform and are well worth a little effort, since they ensure online privacy and security of personal data.
All the above being said, with all the features Vuze and Vuze+ Torrent have, these products may be the best torrent client I have ever used. And I definitely recommend you to do so, too.
Your IP address leaves traces
All activity on the web, including downloading and sharing torrent files, involves sharing your device's IP address. In other words, it is your online fingerprint. Security features are of maximum importance. If you don't take steps to hide your IP address, your online activity could be easily discovered. This also happens because your internet service provider gives you an IP address each time you connect to the Internet. This address is therefore linked to your contact details, your name and your address. Therefore, it can be used to identify you if the internet service provider wishes so. If anyone wants to find out your IP address and monitor you, they just need to share the same torrent as you and then monitor your activity.
Therefore, to download torrents anonymously, you need to hide your IP address so that no one can monitor your online activity. More precisely, it is not so much about "hiding your IP address" (you need an IP to access the internet) but about getting a new one, which will hide your "real" IP address. This is exactly what a Virtual Private Network service (which VPN is the acronym for) can do!
So, before you start downloading torrents and even and before you visit a torrent site, the first thing you really need to do is connect to a high quality VPN. This is not the case with all VPNs so be careful when choosing.
How can I be anonymous when downloading Torrents? VPN for Vuze Torrent
There is an additional precaution to be observed which is often overlooked by Internet users who download torrents. This is to keep your anonymity even when you visit torrent-related websites such as forums or indexing sites.
If you visit these sites without having activated your VPN protocol, your IP address will be vulnerable. This way, the surveillance organizations will be able to collect this information and use it against you. In addition, a malicious person can intercept your IP on the site and use it to download torrents.
Moreover, torrent sites typically offer very little built-in security, making them breeding grounds for dangerous viruses, invasive trackers, and other cyber threats.
Additionally, if you download a copyrighted file, you may be breaking local laws, even accidentally.
We recommend that you activate your VPN each time you connect to the internet. You will protect yourself against online surveillance, identity theft and profiling. VPN's work on multiple operating systems and offer simultaneous connection on a certain number of servers.
VuzeVPN, The best VPN for torrenting with VUZE and VUZE+
We especially recommend VuzeVPN, best VPN for Windows in 2021, which offers excellent quality services at low prices and allows its users to use VPN to download torrents anonymously.
Connecting to a Premium VPN like VuzeVPN is just one click away! Once the VPN client is on your computer, all you have to do is connect and that's it. The VPN will use the settings of your choice or the default settings and connect you completely securely to the internet. You will realize that the connection speed is quite awesome. User-friendly and Customer support available 24/7.
VuzeVPN helps you access blocked content over a normal connection, any time you want to bypass ISP-configured blocks. Also, it allows access to all sites and services when you're abroad.
Even more, VuzeVPN has a 30-day money back guarantee, so feel free to try it. 30 days should be more than enough for you to see all the advantages the product has to offer. Best VPN for torrenting 2021.
How does a VPN allow torrent downloads anonymously?
When you connect to a VPN service, the virtual private network assigns you a new IP address. It is now this address that allows you to be internet connected, but nobody will know what you are doing online. They will only see that you are connecting to a VPN at some point and for a certain period of time. Which is perfectly fine.
On top of that, a VPN encrypts and encodes your connection. Once your connection is encoded in this way, it is absolutely impossible, even with a super calculator, to decode your activities in a reasonable time (it would take hundreds of years!).
The encryption and the new IP address therefore help protect your privacy and anonymity online. It is for these two reasons that using a Premium VPN like VuzeVPN is the best way to download torrents anonymously.
Activate your VPN
Using a VPN may seem intimidating to newbies, but the technology is easy to use.
The best way to hide your IP address is to use a VPN that supports torrenting. When your VPN is enabled, your online activity is no longer visible and therefore nobody can see that you are downloading torrents. So every time you connect to your VPN, your file sharing traffic will be piped through a different IP address and appear to be coming from a different location. You must also have a VPN that allows you to select the VPN server locations.
Before each download or share of torrents, you must activate your VPN and verify that your IP address has been changed by it.
Start downloading torrents anonymously
Of all the steps, this one is the easiest and the most fun. Now that your VPN encrypts your connection and hides your real IP address, you can download absolutely anything you want. You will benefit of private internet access and enjoy all your favorite movies, video games, books…
As you can probably already imagine, the possibilities of torrent sites are almost endless.