Keep Your Data Safe When Using a Free Public Wi-Fi
Public Wi-Fi is available almost everywhere nowadays. As people are using the internet to complete nearly every significant and insignificant task of their everyday life, including checking the weather, the traffic and doing payments, free Wi-Fi has become a necessity for most public spaces.
Chain coffee shops, shopping centres, train stations, airports and libraries, are only some of the public spaces where people can get connected to a free Wi-Fi network.
Free public Wi-Fi might sound convenient, but the truth is that it isn't as innocent as it looks. Public Wi-Fi networks should be treated with great caution.
If the above statement has generated questions, below you will find all the answers you need.
The threats of using public Wi-Fi networks without any protection barrier are multiple. In this article we will discuss some examples of threads that users could face when connecting to public networks, and we will also see how users can protect themselves against hackers and other online threads.
According to Forbes,"Con artists and hackers know it is fairly easy to confuse people when they are looking for free Wi-Fi. They hope you will pick their fake when you peruse the list of available networks (aka SSIDs)."
Unsecured Networks
It's easy for hackers to take control of a Wi-Fi router, when it is not properly configured, which will let them to watch your data stream by.
Evil Twin
The scammer sets up a network with a similar Wi-Fi network name hoping that the user will accidentally click on that option instead of the official one. If the official name is Airport_WiFi, they would create a network and name it WiFi_Airport, for example, in an attempt to create confusion.
I such a case it's not easy to identify the trick unless you pay attention to the details on the signs.
Honeypot
Some locations and areas do not have a Free Wi-Fi available at all. Scammers would create a SSID and name it Free_WiFi in order to trick users who are looking for a free internet connection.
6 Steps to Keep Your Device Secure On Public Wi-Fi
Step 1: In case you absolutely have to use a public Wi-Fi, make sure you stay away from any site asking for your personal data. This includes your bank account details, your address, your ID number etc. And of course don't forget that financial transactions on public Wi-Fi is a big no.
Step 2: Make sure that the Wi-Fi network you are about to connect to, has an official login page. If it doesn't, this might be a red flag, especially at a chain coffee shop (such as Starbucks), a university library, or at an airport.
Step 3: Use secured website. That means the first part of the URL should start with HTTPS, instead of HTTP. If there is no S at the end, you should not use it.
Step 4: Invest your money on a strong Antivirus. Most antiviruses and security programs block malware, viruses and other threads that plant bad software on your devices for later access to your personal data.
Step 5: Keep your firewall always enabled, especially when you are connected to a public Wi-Fi network.
Step 6: Use a Virtual Private Network (VPN). A VPN protects your journey between the starting point and the website. As Vuze has already discussed in past posts, VPNs automatically encrypt all your web traffic, change your IP, and prevent cybercriminals from tracking your fingerprints on the internet. VPN basically sends all your traffic over an encrypted connection, which means that not even the official network administrators will be able to watch what you are doing.
In a world where data security is essential, a top VPN is a necessity.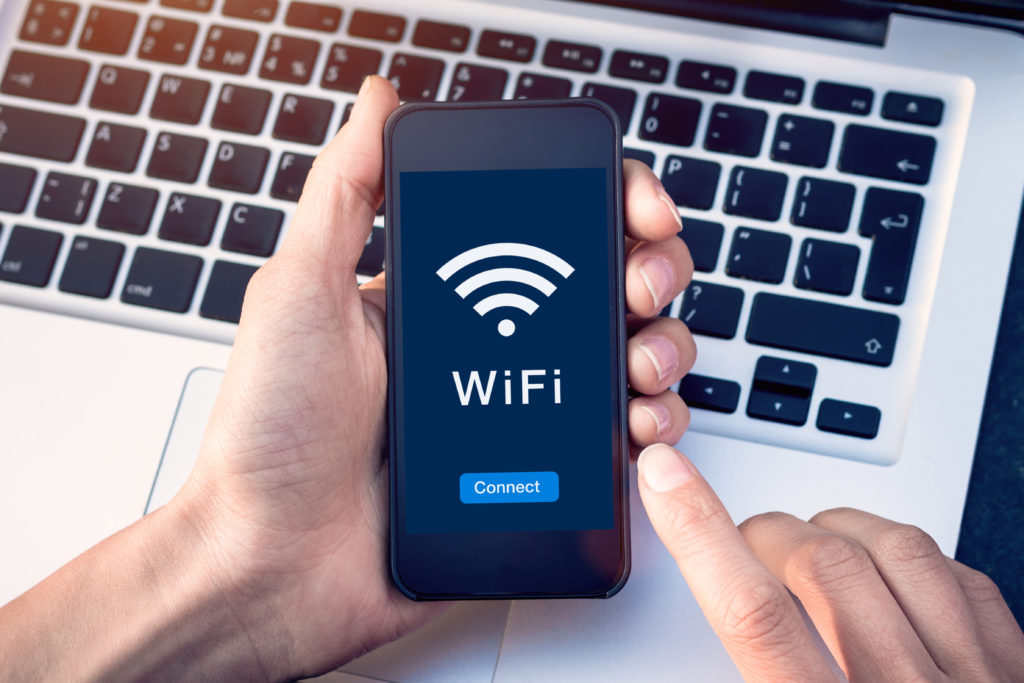 VuzeVPN works no matter what network you're connected to. So even if you were sitting in front of a hacker who is trying to steal your personal information, he would come back empty-handed.
It provides the best VPN Service you will ever find, and it's a risk-free!
VuzeVPN offers a user-friendly interface, high speed servers and private access to the entire web. Your system and connection will hold its regular speed and you will be able to browse the internet according to your needs, completely anonymously, while protecting your information from unwanted watchers.

The 24/7 unlimited access to Vuze's virtual private network, will offer you instant and secure entry to all sites and services you need, with no tracking of the history of your internet browsing. Also, you will be able to access your office network, including all its local network resources, while travelling.
Awesome right?
Free public Wi-Fi is super common today. With Vuze you can pop in and out of Wi-Fi hotspots in almost every public venue today without having to worry about your privacy and security.